---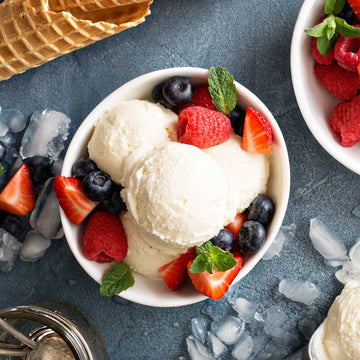 Vanilla Ice Cream
Information
Food Description
Food preparation
• Prep Time : 10 minutes
• Churning Time : 20-40 minutes
• Servings : 5
• Product: Ice Cream Maker
Ingredients
• 1 cup whole milk
• 2 cups heavy cream
• Pinch of salt
• 3/4 cup Granulated sugar
• 1 tablespoon Vanilla Extract
Instructions
In a medium bowl, whisk to combine the milk, sugar and salt until the sugar is dissolved. Stir in the heavy cream and vanilla.
Cover and refrigerate 1 to 2 hours, or overnight.
When ready to make ice cream, start the ice cream maker and pour mixture in through the chute.
4.Churn for 20 to 40 minutes or until desired consistency. If a firmer consistency is desired, transfer the ice cream to an airtight container and place in freezer for at least 2 hours.
Variations:
Add 1/2 cup mix-ins, such as chocolate chips or chopped nuts,after ice cream has churned for at least 15 minutes or when mixture is thick and has started to freeze.
Videos
Use these articles to answer questions that customers have about your products and services. You can use text, links and images and also group articles into categories.