---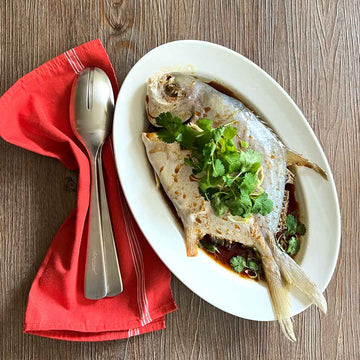 Asian-style Steamed Fish
Information
Food Description
Asian-style Steamed Fish - Steam
Food preparation
• Prep Time : 10 minutes
• Cook Time : 15 minutes
• Servings : 2
• Product: Stream 52 Multi-function Steam Oven
• Setting: Steam
Ingredients
1 whole pompano, about 450-500 grams, gutted and scaled
1 tablespoon Chinese cooking wine/Shaoxing Wine
2 tablespoons soy sauce
1/2 teaspoon sesame oil
3-4 cloves garlic, peeled and sliced
1-2 red onions (depending on size), peeled and sliced
4 slices ginger
1 Asian leek, sliced, green and white parts separated
Sauce:
2 tablespoons soy sauce
2 teaspoons Chinese cooking wine/Shaoxing Wine
1 tablespoon + 1 teaspoon water
1/2 teaspoon sesame oil
1 tablespoon + 1 teaspoon sugar
A dash of white pepper
2 teaspoons canola oil (or any neutral tasting oil)
Garnish:
A bunch of cilantro sprigs
Instructions
Place the onion slices, 2 slices of ginger, and some of
the sliced garlic on a plate or a piece of foil set on the Baumann Steam Oven
perforated steam tray.  If using foil turn the edges up so the flavorings don't leak out.
Place the fish on top of the aromatics and stuff the
cavity with the rest of the garlic, ginger, and the white part of the leek.  Top the fish with some of the green part of the leek (saving the rest for garnish). Drizzle over with the Chinese cooking wine,
soy sauce, and sesame oil.
Set the Baumann Steam Oven to the Steamed Fish preset on the menu (preset 11).  When the temperature is reached, place the perforated steam tray with the fish in the
oven.
While the fish is cooking, make the sauce: place all
the ingredients for the sauce in a small pan or pot and cook on medium heat until sugar is dissolved and sauce is bubbling. Set aside.
When the fish is cooked, transfer it to a serving platter, leaving the aromatics and cooking juices behind.  Reheat your sauce and pour over the fish. Garnish with remaining leeks and cilantro
sprigs.
Note:
You can replace the whole pompano with another white-fleshed fish of similar weight, or even fish fillets. 
You should be able to find Chinese cooking wine/Shaoxing Wine in your neighborhood Asian grocery, and nowadays you can even spot it in the regular groceries. But if you are unable to find it a dry cooking sherry should work.
Videos
Use these articles to answer questions that customers have about your products and services. You can use text, links and images and also group articles into categories.