---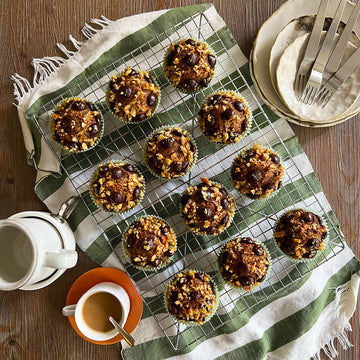 Banana Muffins
Information
Food Description
Banan Muffins - Steam and Bake
Food preparation
• Prep Time : 15 minutes
• Cook Time : 18 minutes
• Servings : 12 muffins
• Product: Stream 52 Multi-function Steam Oven
• Setting: Steam and Bake
Ingredients
1 cup mashed bananas (very ripe to overripe)
1/3 cup melted butter, unsalted
1 teaspoon baking soda
Pinch of salt
1/2 cup sugar
1 large egg, beaten
1 teaspoon vanilla extract
1 1/2 cups of all-purpose flour
1/3 cup chopped walnuts
1/3 cup chocolate chips
Instructions
In a big bowl, mash the ripe bananas with a fork. Mix
the melted butter into the mashed bananas until fully incorporated.
Mix in the baking soda and salt. Stir in the sugar, beaten egg, and vanilla extract. Mix thoroughly.
Add the flour and mix until just combined.  Do not over-mix.
Divide the batter evenly into a 12-hole muffin tin lined with cupcake liners. Top with the walnuts and chocolate chips.
Preheat the Baumann Steam Oven to 180°C on Steam and Bake setting. Set the time to 18 minutes.
Once the temperature has been reached place the muffin tin in the oven and bake for 18 minutes or until a toothpick inserted in the
center of one of the muffins comes out clean.
Remove from oven and let the muffins cool in the pan for a few minutes. Transfer the muffins to a wire rack and let them cool slightly before serving.
Tips:You can swap out the chocolate chips and walnuts for your preferred toppings.  Here are some ideas:
Blueberries…either to top or mixed in the batter
Swirl some jam or Nutella on top with a toothpick
Top with your favorite granola
Switch up the nuts! Use pecans, pistachios, or your preferred nuts.
For a treat, chop up your favorite candy bar and use that as topping!  
Videos
Use these articles to answer questions that customers have about your products and services. You can use text, links and images and also group articles into categories.