---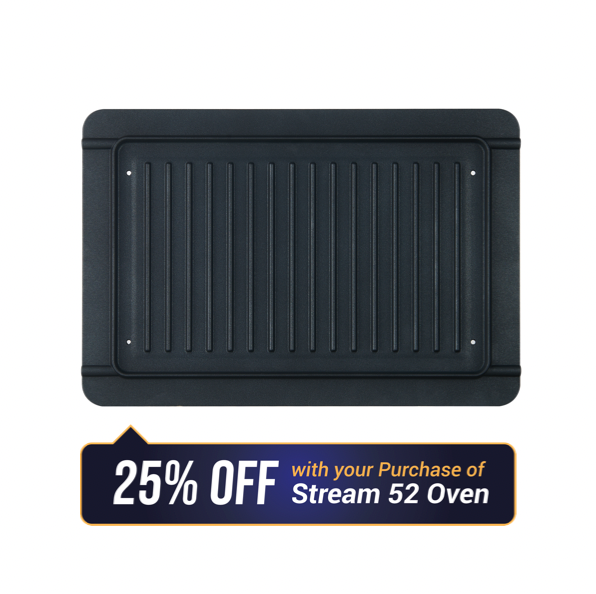 Reversible Grill and Griddle Pan
A simple turn of the non-stick plate opens up possibilities. Make perfect pancakes or sunny side-up eggs on the flat side, or cook a delicious feast of grilled meats and seafood on the ribbed side.
Features
Non-stick die-cast aluminum reversible grill and griddle plate
Specification
Material Used: Cast Aluminum
Cooking Area: 7.87 x 12.60 (20 x 32 cm)
Item dimensions: 10.43 x 15.04 (26.5 x 38.2 cm)
Packaging dimensions: 11 x 15.75 x 1.18 inches (28 x 40 x 3 cm)
G.W.: 2.53 lbs/ 1.15 kg
N.W: 1.98 lbs/ 0.9 kg
Accessories Included
Download Instruction Manual
FAQ
How big is the water tank (capacity)? & how long will it last (usage) before the next fill up?

The tank water has a capacity of 0.8 liter/ 27.5 oz. A full tank will allow for a continuous steam of 1.5hrs before requiring a fill up.

Is it ok to use regular water?

No. It is recommended only distilled or purified water be used to fill the water tank to minimize the scaling buildup, and to ensure the effective operation of the steam oven.

How often should I clean the water tank and steam oven?

It is recommended you clean the water tank before every fill up, and perform a descaling every 3 months.

What is the meaning of "descaling"? & why do I need to "descale" the steam oven?

Mineral
deposits are a natural result of steam creation and will slowly build up inside
of the steam oven's boiler and water lines. Descaling is the removal of the layer of deposit collected over time. Depending
on the water hardness and usage, the steam oven should be descaled every 3-6
months to remove the build-up. ​Descaling more frequently will not harm the unit.
Great results
I bought this little oven to make sourdough loaves with steam for a better oven spring. So far it works great!