---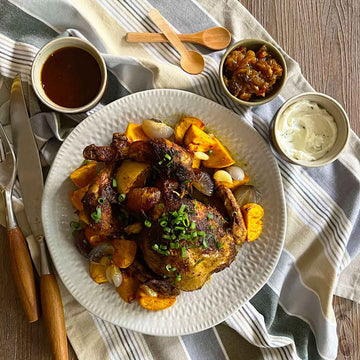 Garam Masala Roast Chicken
Information
Food Description
Garam Masala Roast Chicken - Steam and Bake
Food preparation
• Prep Time : 15 minutes
• Cook Time : 40 minutes
• Servings : 4
• Product: Stream 52 Multi-function Steam Oven
• Setting: Steam and Bake
Ingredients
Rub ingredients:
1/4 cup vegetable oil
3 tablespoons garam masala
2 teaspoons paprika
1 teaspoon coriander
1/2 teaspoon turmeric
1/2 – 1 teaspoon chili
3 – 4 teaspoons sea salt (less if using finer salt)
1/4 teaspoon black pepper
1 teaspoon sugar
2 tablespoons lemon juice 
1 whole chicken (about 1.2 kg)
1 whole head of garlic, slice in half
1 red onion, peeled and sliced in half
1 lemon, sliced in half and skin pierced with a fork
Instructions
In a bowl, mix all the rub ingredients thoroughly.
Spoon some rub mixture onto the chicken and into its
cavity and spread well, massaging it into the cavity and into the meat. Gently slide your fingers between the skin and the breast and place some rub mixture inside, massaging it onto the breast
and even getting it between the skin and meat of the leg and thigh. You want to spend some time really rubbing
the flavorful mixture on the chicken…this is how you will get a delicious roast!
Stuff the chicken cavity with the garlic, onion, and lemon and tie the legs together with a cooking twine to hold everything together.
Preheat the Baumann Steam Oven to 200C on the Steam and Bake function, with the time set for 40 minutes.  Place chicken into a square baking dish or Pyrex. When the temperature is reached, place the baking dish on the wire rack in the oven.  Baste chicken once or twice
during cooking.
When the chicken is done allow to rest for 1 minutes.  Transfer to a serving plate.  Serve the roasting juices on the side. 
Serving suggestions:
Serve with roasted vegetables, garlic yogurt, chutney, and the roasting juices. 
Note:
Any leftovers are good shredded, tossed with the roasting juices, and wrapped in a flatbread with some yogurt and chili sauce.
Videos
Use these articles to answer questions that customers have about your products and services. You can use text, links and images and also group articles into categories.