---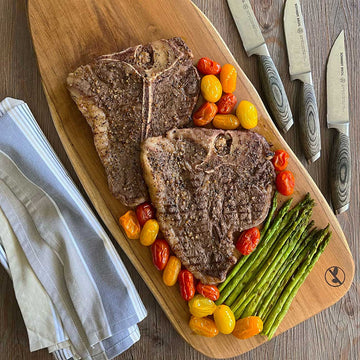 Steak with Grilled Veggies
Information
Food Description
Steak with Grilled Veggies - Grill
Food preparation
• Prep Time : 10 minutes
• Cook Time : 25 minutes
• Servings : 4
• Product: Stream 52 Multi-function Steam Oven
• Setting: Grill
Ingredients
• 250 grams asparagus, trimmed
• 250 grams cherry tomatoes, leaves removed but left whole
• 2 pieces porterhouse steaks, 425-450 grams each, 3/4-inch thick
• Sea salt and freshly cracked black pepper (or your steak
seasoning of choice), to taste
• 1/4 – 1/3 cup olive oil
Instructions
In a large bowl toss the asparagus and cherry tomatoes with 2 tablespoons of the olive oil, a generous pinch of sea salt, and a good cracking of black pepper.
Place the steaks on a tray where they can lay flat.  Drizzle with the remaining olive oil and
season to taste with either salt and pepper, or your favorite steak seasoning.  Set aside.
Place the Reversible Grill/Griddle Pan in the Baumann Steam Oven, with the grill side up.  Preheat the oven, using the Grill preset, to 230C, setting the time to 30 minutes (to ensure the whole cooking process is covered).
When the temperature is reached place the asparagus on the grill. Let this cook for 5 minutes. Turn the asparagus with tongs and cook for 5 minutes more or until softened and charred in places. Remove from the oven and set aside.
Place the cherry tomatoes on the grill.Let this cook for 5 minutes.Turn the tomatoes and cook for a further 5 minutes more or until skin starts to wrinkle. Remove from the oven and set aside.
Make sure the oven comes back to temperature before placing the steaks on the grill pan. Cook for 2 minutes 30 seconds.Flip the steak and cook for about 2 minutes more, or until done to your liking.
Serve the steaks with the grilled asparagus and cherry
tomatoes.
Notes:
Cooking times will vary depending on the thickness of your steaks and the level of doneness you like.  This recipe cooks a 3/4-inch thick steak to about medium.
Experiment with other veggies to grill with your steak!  Zucchini, baby carrots, and mushrooms are some good choices.
Videos
Use these articles to answer questions that customers have about your products and services. You can use text, links and images and also group articles into categories.