---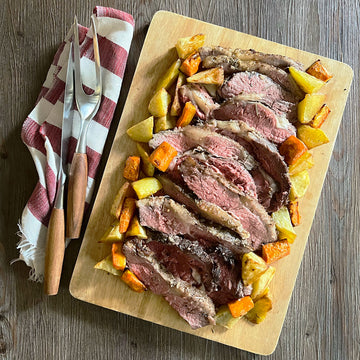 Roast Beef
Information
Food Description
Food preparation
• Prep Time : 15 minutes
• Cook Time : 2 hours (plus 20-30 minutes resting time)
• Servings : 6
• Product: Stream 52 Multi-function Steam Oven
• Setting: Bake
Ingredients
• 3 – 3.5 kg bone-in beef prime rib
• 1 – 1.5 tablespoons sea salt
• 1 teaspoon cracked black pepper
• 1 head garlic, cloves peeled and sliced in half lengthwise

Garlic herb butter:
• 200 grams unsalted butter, softened
• 10 cloves garlic, finely minced
• 2 teaspoons dried rosemary
• 2 teaspoons dried thyme
• 3 teaspoons sea salt
• 1 teaspoon cracked black pepper
Instructions
Bring the prime rib to room temperature and pat dry with a paper towel.
Mix all the ingredients for the garlic herb butter and set aside.
Tuck garlic slices into the crevices in the prime rib. Make slits into the meat and slip the garlic slices in there as well.
Rub the prime rib all over with the salt and pepper. Take your time doing this, making sure to get into all the nooks and crannies.
Coat the prime rib all over with the garlic herb butter.
Preheat the Baumann Steam Oven, using the Bake setting, to 100C, setting the time to 1 hour (you will be cooking the prime rib low and slow for 2 hours, so after thehour is done, you will need to set it for another hour at the same temperature).
When the temperature is reached, place the prime rib on a baking tray in the oven and let it cook.
After 2 hours of cooking, check the internal temperature of the beef at its thickest part with an instant read thermometer. It should be around 50C for medium rare, 53C for medium, at the moment you pull the roast out. The internal temp will still rise a bit while it rests.If it isn't done to your liking, continue cooking until desired internal temperature is reached.
Let the roast rest, tented in foil, for 20-30 minutes. Transfer to a carving board, slice, and enjoy!
Notes:
You can make some roasted vegetables to go with this by baking them in the Baumann Steam Oven using the Roasted Vegetables preset while the roast rests.
There will be pan juices when you finish with the roast that you can use to make a delicious gravy!  Just add beef stock and a slurry of cornstarch (or flour) and water (and season to taste).
Leftovers make great sandwiches!  And the leftover bones can make a good beef stock.
Videos
Use these articles to answer questions that customers have about your products and services. You can use text, links and images and also group articles into categories.