---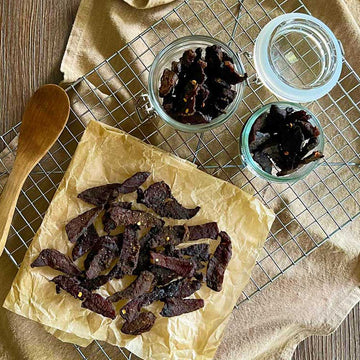 Beef Jerky
Information
Food Description
Food preparation
• Prep Time : 15 minutes (plus 30 minutes – 1 hour freezing time)
• Dehydrating Time : 1.5 – 2.5 hours
• Servings : 1.5 – 2.5 hours
• Product: Stream 52 Multi-function Steam Oven
• Setting: Beef Jerky
Ingredients
• 1 kilo eye round
• 2/3 cup soy sauce
• 2/3 cup Worcestershire sauce
• 1 1/2 tablespoons honey
• 2 teaspoons freshly ground black pepper
• 2 teaspoons onion powder
• 1/2 teaspoon garlic powder
• 1 teaspoon liquid smoke
• 1 teaspoon red pepper flakes
Instructions
Place the beef in the freezer for about 30 minutes to 1 hour to firm up, so it will be easier to slice.
Mix the rest on the ingredients in a jug with a spout (this makes it easier to pour later).
Once the beef is firm enough, remove all excess fat off the meat.  Thinly slice the beef against the grain into strips and place in a ziploc bag.
Pour marinade into the ziploc bag with the beef, seal properly, and toss to ensure all of the beef is evenly coated.
Leave in the refrigerator for at least 30 minutes or up to 24 hours.
Remove beef strips from the marinade, pat dry, and lay
the strips in a single layer on the Baumann Steam Oven mesh tray.  You will need to do this in batches, but you don't need to use all the beef, see notes.
Set the Baumann Steam Oven to the Beef Jerky preset and set the time to 2.5 hours.
Once the temperature has been reached, place the mesh tray with the beef in the Baumann Steam Oven, making sure to insert the
Humidity Vent Adaptor at the top corner between the oven and the oven door.
Check your jerky for doneness after one hour, and keep checking at 30 minute intervals until done. You want the meat to be dry, chewy, and cooked through, but not too hard or tough.
Remove jerky to a wire rack when done to cool slightly.  Transfer to an airtight container to store.
Notes:
Some jerky methods will slice with the grain and some against.  Slicing with the grain will give you a chewier jerky and slicing against the grain will produce a more tender jerky.
Dehydrating time will vary depending on how thick or thin the beef is sliced, and what size of strips you have.  For the strips pictured, 1 – 1.5 hours were enough.  For thicker or longer strips, more time would be needed. The advantage of the Baumann Steam Oven is that you are able to see the progress of your jerky through the oven door, and you can also easily pause the cooking/dehydrating to check on the progress of your jerky.
You don't have to use all the beef at once.  You can make a couple of batches and store the rest of the marinated beef in the freezer.
Videos
Use these articles to answer questions that customers have about your products and services. You can use text, links and images and also group articles into categories.