---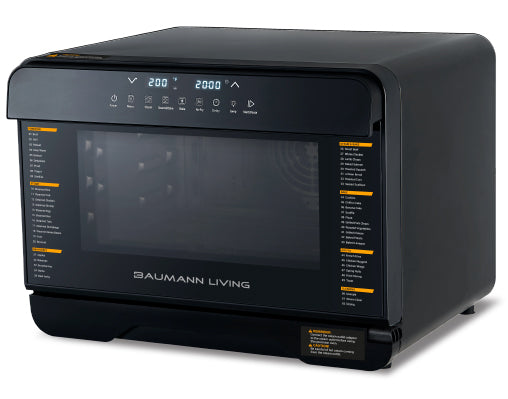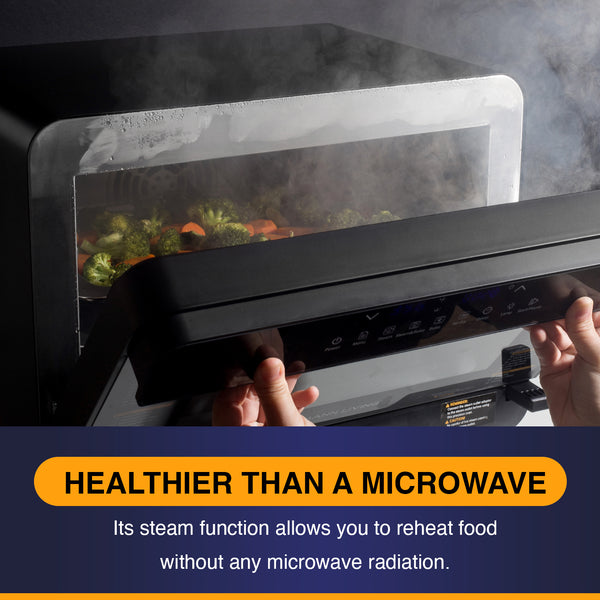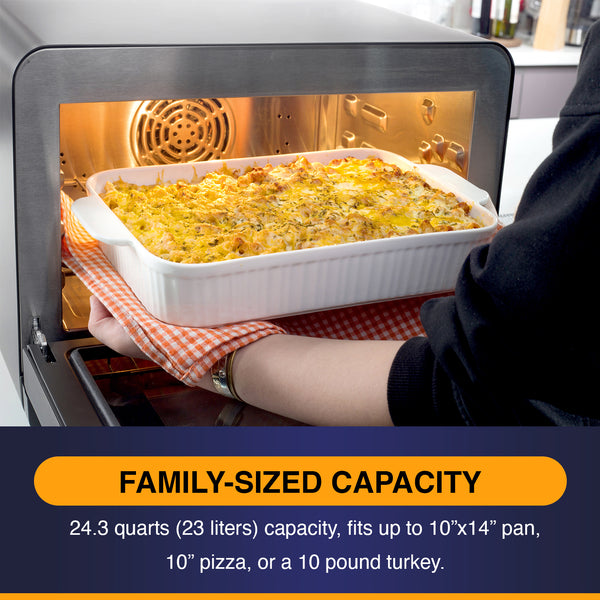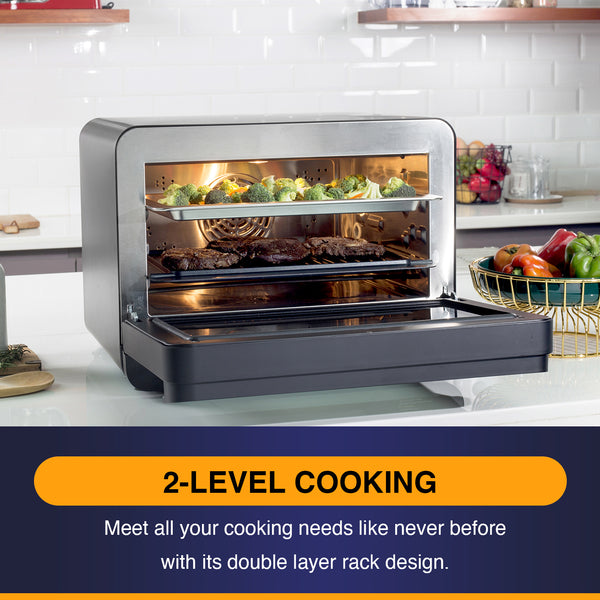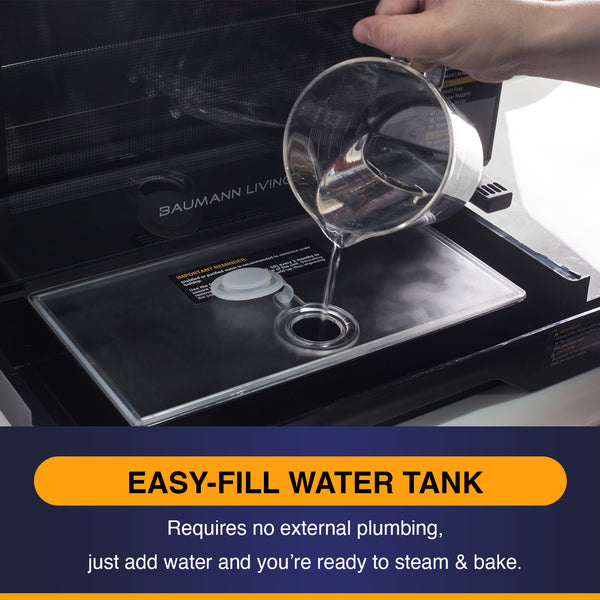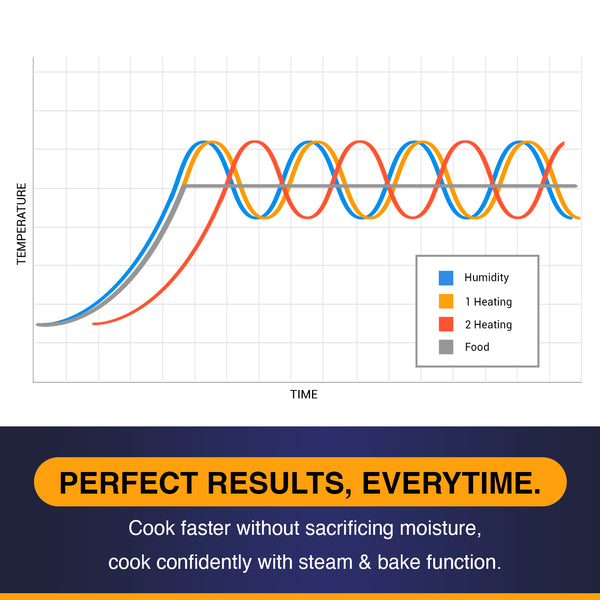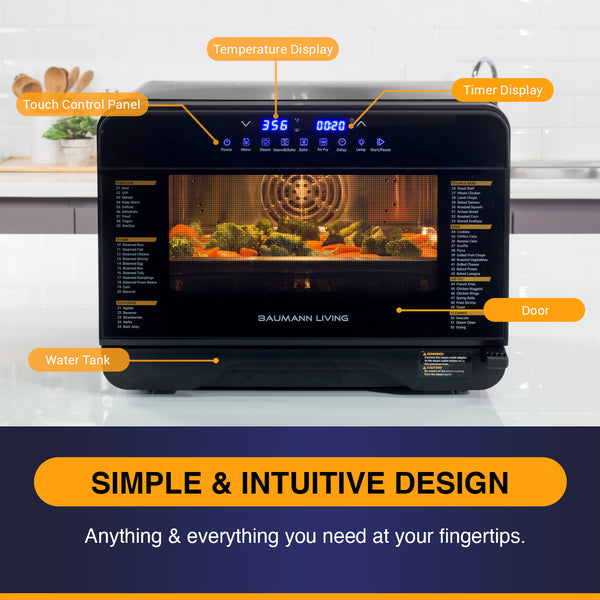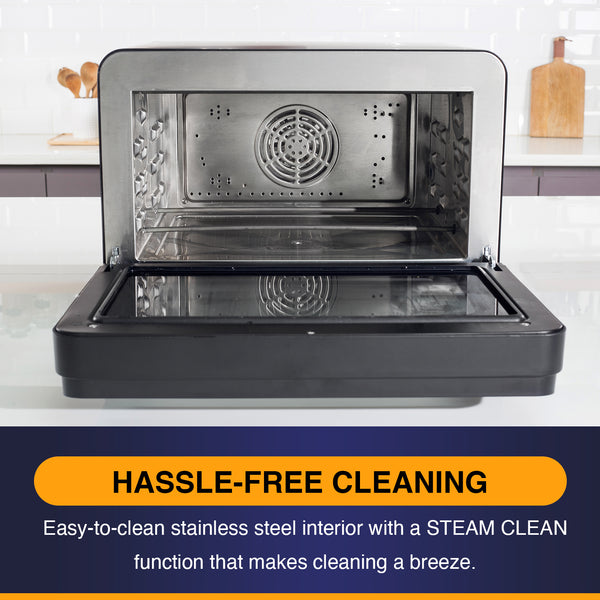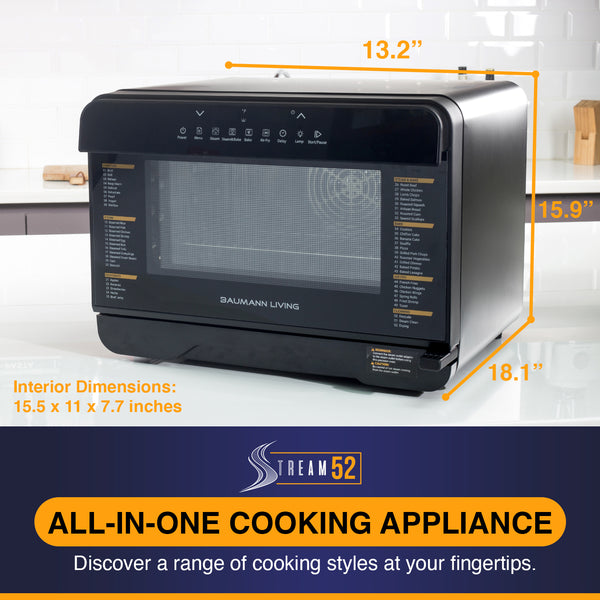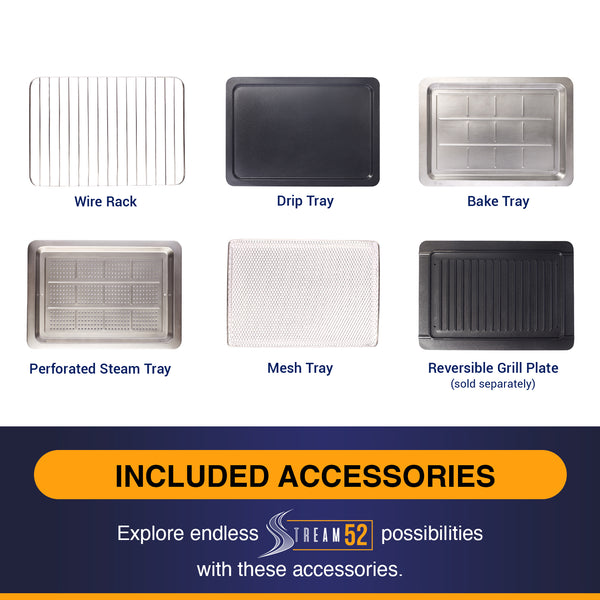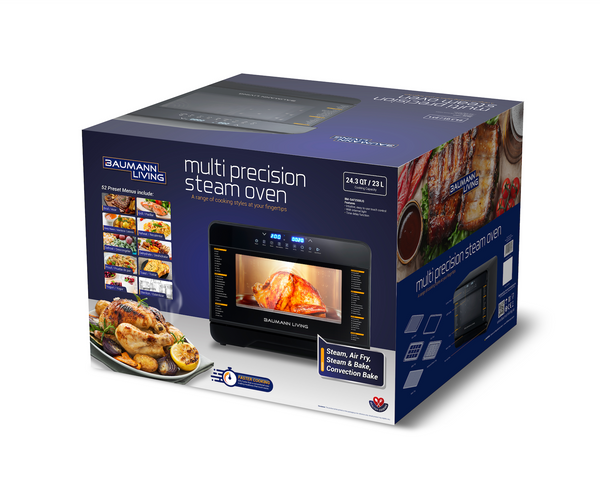 Multi Function Steam Oven
Get 25% off on the Reversible Grill and Griddle Pan with your purchase of the Stream 52 Oven.
It's an all-in-one cooking appliance that brings a range of dishes to your repertoire. You can steam, bake, or do a combination. You can also do air-fry for surprisingly crispy results, sans greasy oil. Breads and buns, cakes and pies, roasts and braised dishes - everything and anything are now at your fingertips, literally, thanks to the oven's intuitive touch control panel.
Features
Innovative technology combines steaming and convection baking for gourmet results; convection baking cooks food quickly and evenly while steaming helps to preserve moisture.
Precise temperature control delivers consistent cooking results; cook food to your exact level of doneness.
Combination cooking with precisely controlled low temperature even allows you to sous vide.
Touch control panel displays one-touch functions to Steam, Steam & Bake, Convection Bake and Air Fry.
Multiple preset menu programs also allow you to Broil, Grill, Roast, Toast, Dehydrate, Proof, Reheat, and more!
Intuitive, easy to use touch control and large LED display
Reheat faster and safer with rapid steaming and bring food to its just cooked texture.
3 layered tempered glass door; easy to clean stainless steel interior
Generous 24.3 quarts (23 liters) cooking capacity fits up to 10 x 4" pan, 10" pizza or a 10 pound turkey.
Specification
Power: 120V 60Hz 1500W
Temperature range: 100.4° - 446° F (38° - 230° C)
Item dimensions: 18.1 x 15.9 x 13.2 in (46 x 40.5 x 33.5 cm)
Interior dimensions: 15.5 x 11 x 7.7 in (38.4 x 28.0 x 19.6 cm)
Packaging dimensions: 21 x 18.7 x 15.4 inches (53.5 x 47.5 x 39 cm)
G.W.: 34.2 lbs/ 15.5 kg
N.W: 27.6 lbs/ 12.5 kg
Accessories Included
1 x Bake tray
1 x Mesh Tray
1 x Perforated steam tray
1 x Wire rack
1 x Drip tray
Download Instruction Manual
FAQs
How big is the water tank (capacity)? & how long will it last (usage) before the next fill up?

The tank water has a capacity of 0.8 liter/ 27.5 oz. A full tank will allow for a continuous steam of 1.5hrs before requiring a fill up.

Is it ok to use regular water?

No. It is recommended only distilled or purified water be used to fill the water tank to minimize the scaling buildup, and to ensure the effective operation of the steam oven.

How often should I clean the water tank and steam oven?

It is recommended you clean the water tank before every fill up, and perform a descaling every 3 months.

What is the meaning of "descaling"? & why do I need to "descale" the steam oven?

Mineral
deposits are a natural result of steam creation and will slowly build up inside
of the steam oven's boiler and water lines. Descaling is the removal of the layer of deposit collected over time. Depending
on the water hardness and usage, the steam oven should be descaled every 3-6
months to remove the build-up. ​Descaling more frequently will not harm the unit.
Great oven!
I really enjoyed using the Baumann steam 52 oven. I've used the air fryer feature, the steam feature and the steam and bake feature and they all worked very well. I look forward to using the dehydrate feature to make beef jerky next.